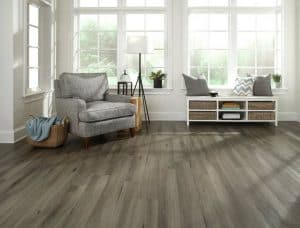 Waterproof. Durable. Easy to maintain.
Vinyl flooring has always been known as a resilient, low maintenance flooring option. Today's vinyl flooring options are no exception, quickly becoming some of the most popular flooring options due to their versatility, performance, and style.
3D printing technology has made it possible for luxury vinyl flooring to be manufactured with extreme depth and realism, closely mimicking the beauty of hardwood, tile, and stone.
It's still just as durable as it has ever been. And it's available in various patterns, colors, and gloss levels, which means there's a style perfect for any room.
To get a closer look at modern luxury vinyl flooring, make a visit to one of our showrooms. Our flooring specialists will make sure you have all the information you need to select the best flooring for you.
Featured Products
Visit us in store to see full selection!
Arden/Ridge Ultra
Price: $2.39
Mohawk Luxury Vinyl Plank – $1.79 sq/ft
Price: $1.79
Vinyl Options

Luxury Vinyl Plank
Luxury Vinyl Plank (LVP) looks just like wood flooring, featuring realistic colors and wood grains that emulate natural hardwoods. Many LVP products feature the look of scraping or embossing, which adds to the realism. But because the planks are made of vinyl they are 100% WATERPROOF! This makes them easier to maintain and a better option than wood in rooms with moisture, like kitchens and bathrooms.
Luxury Vinyl Tile
Luxury Vinyl Tile (LVT) looks like stone or ceramic tile, complete with the vibrant natural colors and detailed surface textures that feel like the real thing. LVT can often be installed with grout for a more authentic look. Some products even include realistic grout lines in the plank! This can be a great flooring option if you love the look of natural tile but are concerned about damage due to dropped dishes or other objects.
Sheet Vinyl
Another option is Sheet Vinyl. Manufactured as one solid, continuous roll of flooring, sheet vinyl can be installed seamlessly, making it a good choice for moisture-prone rooms like bathrooms.
Looking for Laminate? Check out the amazing deals we have HERE!
Top Brands, Huge Discounts
At Discount Dave's, we carry the very best vinyl flooring options, including popular brands like Armstrong, Tarkett, Mohawk, Southwind, Congoleum and Mathews & Parlo. And, if it turns out that we don't have what you're looking for in stock, we will order it in for you with the same great discounts you find at our stores.